An animal welfare organization is calling for a National Institute of Allergy and Infectious Diseases (NIAID)-funded biomedical research company not to return a shipment of over 1,000 monkeys back to Cambodia after federal agencies flagged the shipment last year.
Liz Tyson Griffin, programs director and head of sanctuary at Born Free USA, said in a March 16 press release that the organization communicated to the U.S. Fish and Wildlife Services its willingness to provide a lifetime sanctuary for the long-tail macaques.
On March 13, Born Free USA said the U.S. Fish and Wildlife Services announced that the monkeys would be sent back to Cambodia, where they would be reintroduced "into the same illegal system and end their short lives in a laboratory."
"These young monkeys will either be abandoned with no attempt at rehabilitation, or simply recycled back through the system and re-exported for exploitation in other labs," Griffin said. "Either way, their future is bleak—this is a death sentence. They deserve safety. They deserve to be cherished as individuals and not exploited as commodities."
According to People for the Ethical Treatment of Animals (PETA), the monkeys remained at Charles River Laboratories (CRL) as of March 14 because of a campaign to pressure the U.S. Fish Wildlife Service into releasing the monkeys to a sanctuary instead.
PETA said it pledged $1 million toward the relocation of the monkeys to a Born Free USA sanctuary in Texas.
Charles River Labs Subpoenaed
In 2022, the Department of Justice charged members of an international primate smuggling ring with multiple felonies related to trafficking the monkeys into the United States, according to a November 2022 press release.
The smugglers were alleged to be supplying CRL with monkeys.
Buried within its February financial press release was CRL's statement on the DOJ's subpoena of the company related to the investigation.
"The Company has been informed that this investigation relates specifically to several shipments of NHPs [non-human primates] received by Charles River from its Cambodian supplier," CRL said. "Charles River intends to fully cooperate with the U.S. government as part of their investigation. Due to ongoing investigations and the heightened focus on the Cambodian NHP supply chain in recent months, Charles River has voluntarily suspended NHP shipments from Cambodia at this time."
An NBC News report said that the U.S. Fish and Wildlife had contacted several sanctuaries over the last six months, including Born Free USA, to see about housing the monkeys, adding that it isn't clear why the shipment was initially flagged.
According to the DOJ, the monkeys have been protected under the Convention on International Trade in Endangered Species of Wild Fauna and Flora (CITES) since 1977 and require special permits to be imported into the United States.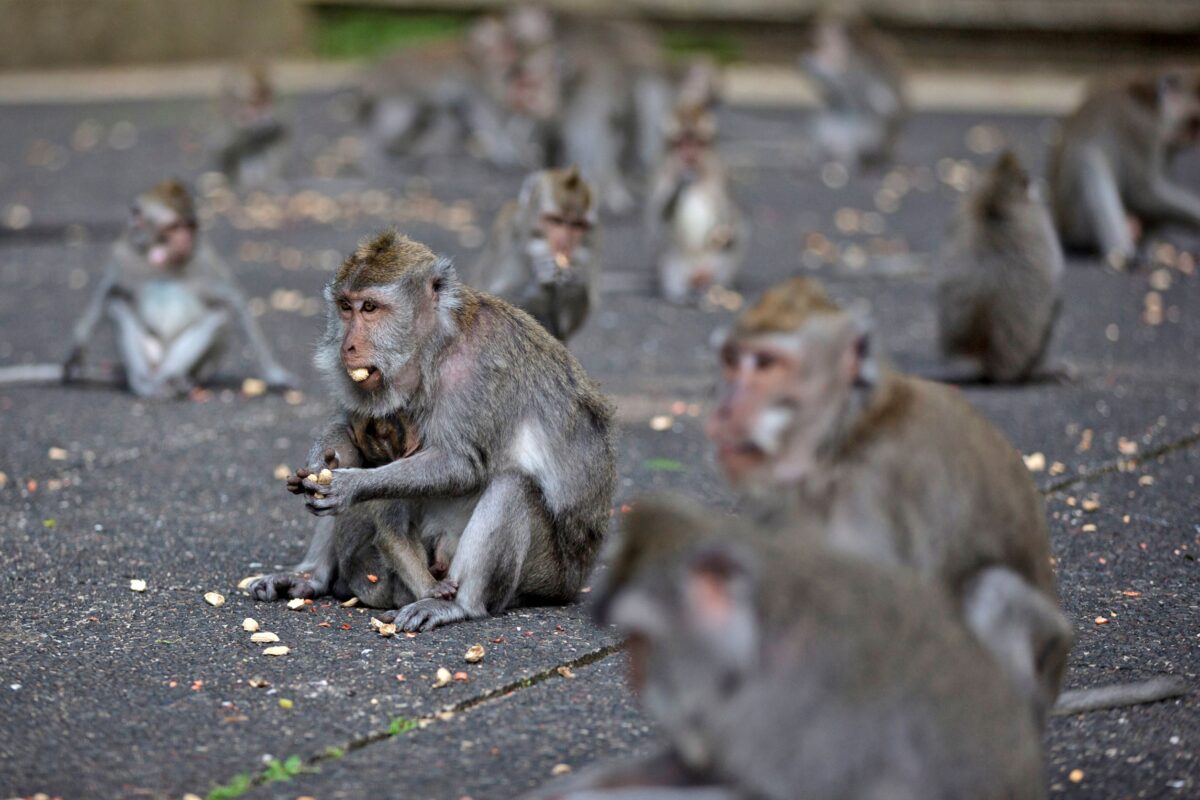 'Excruciating Experiments'
In 2021, the taxpayer watchdog group White Coat Waste Project (WCW) spotlighted NIAID's funding of what WCW called "excruciating experiments" on rhesus monkeys. The monkeys are owned by NIAID, and bred and maintained by CRL on Morgan Island off the coast of Beaufort, South Carolina.
The South Carolina Department of Natural Resources owns the island and leases it to CRL.
Justin Goodman, vice president of advocacy and public policy for WCW, previously told The Epoch Times that in many of these experiments, pain relief was intentionally withheld.
Most recently, WCW has worked with Sen. Susan Collins (R-Maine) and Rep. Nancy Mace (R-S.C.) to reintroduce bipartisan federal legislation called Violet's Law, named after a hound WCW saved from a taxpayer-funded lab.
The legislation would require all federal labs to enact policies allowing animals to be retired and adopted out when testing has ended.
"It's cruel and unnecessary to euthanize dogs, cats, and other animals in federal research labs which are healthy enough to be adopted out and live happy lives," said Mace. "We are leading this commonsense, bipartisan effort to ensure that federal agencies can retire and re-home animals no longer needed in taxpayer-funded research whenever possible."
The Epoch Times contacted CRL, Born Free USA, and the U.S. Department of Fish and Wildlife Services for comment.
This post was written by: Matt McGregor
Read More